* * * * *
The YALSA Award for Excellence in Nonfiction for Young Adults honors the best nonfiction book published for young adults during the previous year.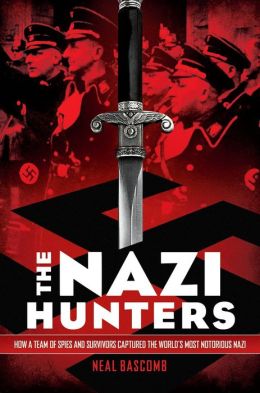 A shortlist of up to 5 titles is released in December, with the winner announced at the ALA Midwinter Meeting in January. The 2014 winner of the Award for Excellence in Nonfiction is The Nazi Hunters: How a Team of Spies and Survivors Captured the World's Most Notorious Nazi written by Neal Bascomb, published by Arthur A. Levine Books. Details are below (titles marked with an asterisk * are available in the CA Library collection; the rest will be added in the coming weeks).
* The Nazi Hunters: How a Team of Spies and Survivors Captured the World's Most Notorious Nazi by Neal Bascomb — A thrilling spy mission, a moving Holocaust story, and a first-class work of narrative nonfiction. In 1945, at the end of World War II, Adolf Eichmann, the head of operations for the Nazis' Final Solution, walked into the mountains of Germany and vanished from view. Sixteen years later, an elite team of spies captured him at a bus stop in Argentina and smuggled him to Israel, resulting in one of the century's most important trials — one that cemented the Holocaust in the public imagination. The Nazi Hunters is the thrilling and fascinating story of what happened between these two events.
"It fosters the kind of tension only a well-written thriller can create. Impeccably researched, with photos and artifacts included, the book includes a bibliography with extensive notes." — Voice of Youth Advocates
Finalists:
Go: A Kidd's Guide to Graphic Design by Chip Kidd — Kids love to express themselves, and are designers by nature—whether making posters for school, deciding what to hang in their rooms, or creating personalized notebook covers. Go, by the award-winning graphic designer Chip Kidd, is a stunning introduction to the ways in which a designer communicates his or her ideas to the world. It's written and designed just for those curious kids, not to mention their savvy parents, who want to learn the secret of how to make things dynamic and interesting.
"This is a book not only for art classes, but also for courses in journalism, communications, media, and writing, for units on persuasive writing and advertising, and to demonstrate how strong visual images convey meaning and appeal." — School Library Journal starred review
Imprisoned: The Betrayal of Japanese Americans During World War II by Martin W. Sandler — While Americans fought for freedom and democracy abroad, fear and suspicion towards Japanese Americans swept the country after Japan's sneak attack on Pearl Harbor. Culling information from extensive, previously unpublished interviews and oral histories with Japanese American survivors of internment camps, Martin W. Sandler gives an in-depth account of their lives before, during their imprisonment, and after their release.
"Sandler examines reasons why most Japanese seemingly accepted their fate at the time, but reminds young adults that this outrage against American citizens must never happen again. Included are a lengthy bibliography, places to visit, websites, and sources of the abundant illustrations." — Children's Literature
Courage Has No Color: The True Story of the Triple Nickles, America's First Black Paratroopers by Tanya Lee Stone — World War II is raging, and thousands of American soldiers are fighting overseas against the injustices brought on by Hitler. Back on the home front, discrimination against African Americans plays out as much on Main Street as in the military. Tanya Lee Stone examines the little-known history of the Triple Nickles, America's first black paratroopers, who fought in an attack on the American West by the Japanese.
"[Stone's] interviews with veterans of the unit provide groundbreaking insight… An exceptionally well-researched, lovingly crafted and important tribute to unsung American heroes." — Kirkus Reviews
* The President Has Been Shot! The Assassination of John F. Kennedy written by James L. Swanson — In his book on the Kennedy assassination, James Swanson transports readers back to one of the most shocking, sad, and terrifying events in American history. Deploying his signature "you are there" style — a riveting, ticking-clock pace, with an unprecedented eye for dramatic details and impeccable historical accuracy — Swanson tells the story of the JFK assassination as it has never been told before.
"It is as much a thriller as it is about romance, psychology, and politics. Swanson charms readers with mesmerizing, little-known facts, making readers the experts and inspiring them to become historians and inquirers." — Voice of Youth Advocates