* * * * *
Last week, the Young Adult Library Services Association (YALSA) announced its 2014 Quick Picks for Reluctant Young Adult Readers selection list. The list is presented annually at the ALA Midwinter Meeting.
The Quick Picks list suggests books that teens, ages 12-18, will pick up on their own and read for pleasure; it is geared to the teenager who, for whatever reason, does not like to read. The complete list of 77 titles and 3 series, drawn from more than 200 nominations, can be found at Quick Picks 2014.
We have many of the titles in the CA Library collection already — click here to see them — and we'll be adding more in the coming weeks.
Here are the Top Ten Quick Picks; titles marked with an asterisk * are available at CA Library —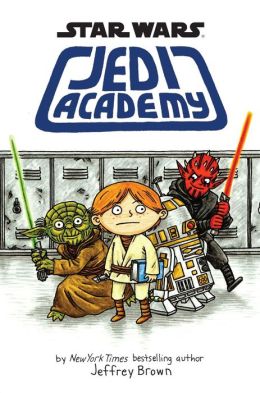 Jeffrey Brown. Star Wars Jedi Academy. Scholastic, 2013 — This incredible, original story captures all of the humor, awkwardness, fun, and frustrations of middle school–all told through one boy's comics, journal entries, letters, doodles, and newspaper clippings. The setting? A galaxy far, far away…
"Brown combines Star Wars excitement with real-life kid problems to make a fresh, inspiring, and humorous take on the franchise." — School Library Journal
Joseph Bruchac. Killer of Enemies. Tu Books, 2013 — Years ago, seventeen-year-old Apache hunter Lozen and her family lived in a world of haves and have-nots. There were the Ones—people so augmented with technology and genetic enhancements that they were barely human—and there was everyone else who served them. Then the Cloud came, and everything changed.
"A good bet for fans of superhero fiction and graphic novels and readers in search of superpowered female warriors." — Kirkus Reviews
* Joelle Charbonneau. The Testing. Houghton Mifflin Harcourt, 2013 — It's graduation day for sixteen-year-old Malencia Vale, and the entire Five Lakes Colony (the former Great Lakes) is celebrating. All Cia can think about—hope for—is whether she'll be chosen for The Testing, a United Commonwealth program that selects the best and brightest new graduates to become possible leaders of the slowly revitalizing post-war civilization. When Cia is chosen, her father finally tells her about his own nightmarish half-memories of The Testing.
"Charbonneau works action, romance, intrigue, and a plausible dystopian premise into a near-flawless narrative." — Publishers Weekly
Elisabeth Henderson and Nancy Armstrong. 100 Questions You'd Never Ask Your Parents: Straight Answers to Teens' Questions About Sex, Sexuality, and Health. Roaring Book, 2013 — Teens have questions about sex; it's a matter of who they ask and how reliable the answers are. Collected directly from teens and presented in a simple and accessible Q&A format, 100 Questions You'd Never Ask Your Parents provides information about sex, drug, body, and mood in a way that's honest, nonjudgmental, and responsible.
Alex London. Proxy. Philomel, 2013 — Syd's life is not his own. As a proxy he must to pay for someone else's crimes. When his patron Knox crashes a car and kills someone, Syd is branded and sentenced to death. The boys realize the only way to beat the system is to save each other so they flee.
"A smart, stylish science-fiction thriller that deftly weaves big issues like guilt, accidents of birth, redemption and commerce into a page-turning read." — Kirkus Reviews
*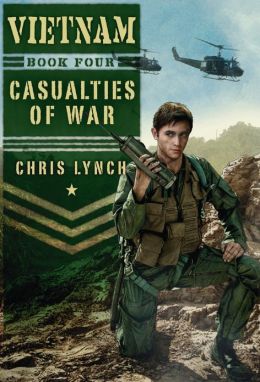 Chris Lynch. Vietnam #4: Casualties of War. Scholastic, 2013 — Morris, Rudi, Ivan, and Beck are best friends for life. So when one of the teens is drafted into the Vietnam War, the others sign up, too. Although they each serve in a different branch, they are fighting the war together — and they promise to do all they can to come home together.
"An excellent war saga that will leave readers feeling they have been through something monumental." — Kirkus Reviews
* Meg Medina. Yaqui Delgado Wants to Kick Your Ass. Candlewick Press, 2013 — One morning before school, some girl tells Piddy Sanchez that Yaqui Delgado hates her and wants to kick her ass. At first Piddy is more concerned with trying to find out more about the father she's never met and how to balance honors courses with her weekend job at the neighborhood hair salon. But as the harassment escalates, avoiding Yaqui and her gang starts to take over Piddy's life.
"Medina effectively prods at the motivations behind bullying (without excusing it) and sensitively explores the delicate balance between belonging and maintaining individuality." — Publishers Weekly
Aline Alexander Newman and Gary Weitzman. How to Speak Dog: A Guide to Decoding Dog Language. National Geographic, 2013 — A fun, informative, and photographically driven book that helps kids understand what their dog is trying to tell them through body language and behavior.
"This book is geared toward kids but is fun for dog lovers of all ages." — Have Sippy Will Travel blog
* Prudence Shen. Nothing Can Possibly Go Wrong.  Faith Erin Hicks. Roaring Book Press, 2013 — You wouldn't expect Nate and Charlie to be friends. Charlie's the laid-back captain of the basketball team, and Nate is the neurotic, scheming president of the robotics club. But they are friends, however unlikely—until Nate declares war on the cheerleaders. At stake is funding that will either cover a robotics competition or new cheerleading uniforms—but not both.
"Tweens, teens, and all robot fans should enjoy this good-humored play on the ongoing battle between jocks and geeks." — School Library Journal
* Allen Zadoff. Boy Nobody. Little, Brown Books, 2013 — Boy Nobody is the perennial new kid in school, the one few notice and nobody thinks much about. He shows up in a new high school in a new town under a new name, makes a few friends, and doesn't stay long. Just long enough for someone in his new friend's family to die — of "natural causes." Mission accomplished, Boy Nobody disappears, moving on to the next target. But when he's assigned to the mayor of New York City, things change.
"Operating in the tradition of both James Bond and of Robert Cormier's I Am the Cheese, Boy Nobody is an auspicious first volume in a promised new series of action-adventure thrillers that will keep readers clamoring for more." — Booklist