* * * * *
Today's CA Library Book of the Day is The Darkest Path by Jeff Hirsch (author of The Eleventh Plague).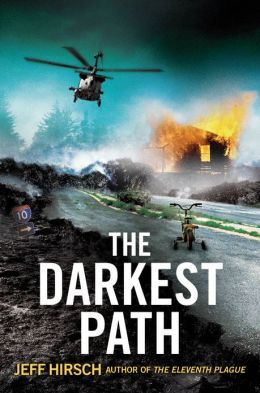 From the publisher:
USA TODAY bestselling author Jeff Hirsch once again creates a futuristic world with stunning, dramatic realism.
A civil war rages between the Glorious Path–a militant religion based on the teachings of a former US soldier–and what's left of the US government. Fifteen-year-old Callum Roe and his younger brother, James, were captured and forced to convert six years ago. Cal has been working in the Path's dog kennels, and is very close to becoming one of the Path's deadliest secret agents. Then Cal befriends a stray dog named Bear and kills a commander who wants to train him to be a vicious attack dog. This sends Cal and Bear on the run, and sets in motion a series of incredible events that will test Cal's loyalties and end in a fierce battle that the fate of the entire country rests on.
"Anyone who reads dystopian novels will appreciate this fast-paced, action-packed novel." — Children's Literature
"An intriguing vision of a possible future rooted in current politics and wrapped in an exciting tale of war." — Kirkus Reviews
"[Concludes with] a page-turning climax fraught with danger and emotion. The dystopian story is action-packed all the way." — School Library Journal
Look for The Darkest Path by Jeff Hirsch in the New Books section at CA Library!