* * * * *
Today's CA Library Book of the Day is This Star Won't Go Out: The Life and Words of Esther Grace Earl by Esther Earl, Lori Earl and Wayne Earl, with an introduction by John Green.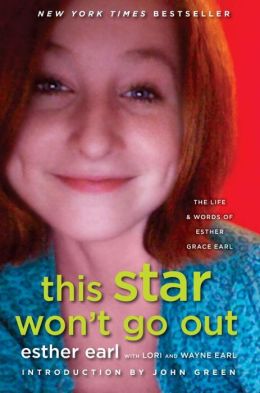 From the publisher:
In full color and illustrated with art and photographs, this is a collection of the journals, fiction, letters, and sketches of the late Esther Grace Earl, who died of thyroid cancer at the age of 16. Essays by family and friends help to tell Esther's story along with an introduction by award-winning author John Green who dedicated his #1 bestselling novel The Fault in Our Stars to her.
Learn more about Esther at tswgobook.tumblr.com.
"This moving read will have you reaching for the tissues and smiling with delight…. Stunningly alive on the page, Esther shows that sometimes the true meaning of life—helping and loving others—can be found even when bravely facing death." –People Magazine, 4 stars
"This very witty, moving, and emotional work would be an excellent choice for anyone who needs help dealing with loss." — School Library Journal.