* * * * *
There has been a lot of activity in the New Books section, and some of it is of the paranormal variety. Check out these 10 creepy titles that might make you sleep with the lights on...
Bellweather Rhapsody / Kate Racculia – A high school music festival goes awry when a young prodigy disappears from the most infamous room in the Bellweather Hotel, in a whip-smart novel sparkling with dark and giddy humor. "Laced with dark humor and remarkable insight, this smart page-turner offers an insider's look at the competitive nature of high school music performance, the higher stakes professional world, and the complex relationships that lie within both." – Paula J. Gallagher, Adult Books 4 Teens
Zom-B Mission / Darren Shan – B Smith's first mission for the Angels involves relocating human survivors from London to a barricaded community in the countryside. But will the evil influences that enter New Kirkland pose an even greater threat than the living dead outside the barricades? Darren Shan continues his adventures of a teenage zombie trying to right the wrongs of a flawed human life, exploring the morality and ills of society through the lens of an apocalypse gone wrong–and a terrifying hell on earth reigning.
Hereafter / Kate Brian – After learning the disturbing truth about her new island town, Rory fights to protect her family from a mysterious force interfering with life on Juniper Landing. "This suspenseful sequel [to Shadowlands] further expands the island's mystery." – Booklist review
Untold / Sarah Rees Brennan – In the second book in the Lynburn Legacy series, Kami Glass and her friends continue to battle the sorcerers of the Lynburn family in the sleepy English town of Sorry-in-the-Vale, while their friendships and families are torn apart. "A darkly funny , deliciously thrilling Gothic." – Kelley Armstrong, author the Darkness Rising series
Sea of Shadows / Kelley Armstrong – In the first book in the Age of Legends trilogy, twin sisters Ashyn and Moria must embark on a a dangerous journey when the spirits they're charged with protecting turn vengeful. "A fascinating mythical world filled with danger, monsters, and betrayal at every turn." – School Library Journal review
White Space / Ilsa J. Bick – A seventeen-year-old girl jumps between the lines of books and into the white space where realities are created and destroyed — but who may herself be nothing more than a character written into being from an alternative universe. "Bick (the Ashes trilogy) launches the Dark Passages series with this ambitious meta-textual adventure, which invokes Stephen King levels of psychological and physical horror, while defying readers' perceptions of reality at every turn." – Publishers Weekly review
Bird Box / Josh Malerman – Something is out there…something terrifying that must not be seen. One glimpse and a person is driven to deadly violence. No one knows what it is or where it came from. Five years after it began, a handful of scattered survivors remain, including Malorie and her two young children. Living in an abandoned house near the river, Malorie has long dreamed of fleeing to a place where her family might be safe. But the journey ahead will be terrifying: twenty miles downriver in a rowboat – blindfolded — with nothing to rely on but Malorie's wits and the children's trained ears. "This is an intriguing novel in which it is the not knowing that is scariest of all." – Angela Carstensen, Adult Books 4 Teens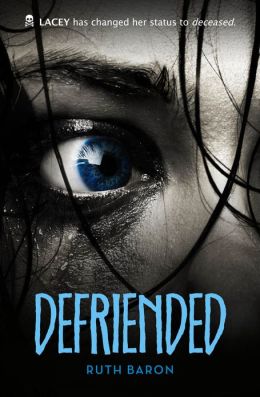 The Fallen / Charlie Higson – In the 5th book in The Enemy series, The Holloway crew, having made it to the Natural History Museum barely alive, continue to seek a cure for the Disease, but when the children return to the streets for medical supplies, it is no longer clear who – or what– is their enemy. "Lord of the Flies with zombies…tons of nail-biting action." – Rick Riordan, creator of the Percy Jackson series
Defriended / by Ruth Baron – Falling for an elusive girl he talks with online but has never met in person, Jason discovers that the girl actually died a year earlier in a car accident, causing him to wonder if he is actually speaking with a ghost. "An undeniably fun horror thriller that has Jason aligning himself with Lacey's former best friend, brother, and boyfriend, any one of whom could be the puppet master behind the deadly play." – Booklist review
The Girl With All The Gifts / M. R. Carey – Not every gift is a blessing. Every morning, Melanie waits in her cell to be collected for class. When they come for her, Sergeant Parks keeps his gun pointing at her while two of his people strap her into the wheelchair. She thinks they don't like her. She jokes that she won't bite. But they don't laugh. "A thought-provoking postapocalyptic zombie novel…[that] goes beyond genre expectations thanks to its characters… and one doozy of a twist ending." Angela Carstensen, Adult Books 4 Teens
If you're looking for zombies, witches, ghosts and other things that go bump in the night, stop by CA Library and get your scare on!