* * * * *
We continue to stock the New Book section with plenty of great titles. Today's post highlights some of the latest books in ongoing fiction series that are getting a lot of attention. Click through the titles to connect to the CA Library catalog to learn more!
Endless (A Shadowlands Novel) / Kate Brian –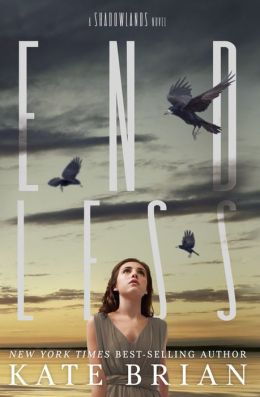 When Rory Miller learns that her love, Tristan Parrish, has been seeking a second chance at life on Earth by sending good souls to the Shadowlands, including her friend Aaron, her father, and her sister Darcy, she will do anything to save them, even if that means going to hell and back. "A riveting conclusion to Brian's mystery series with a paranormal twist." – School Library Journal
Redeemed (House of Night, Book 12) / P.C. Cast and Kristin Cast – In the final installment of this bestselling vampyre series, Zoey and her friends face the ultimate battle with evil, which will determine the fate of the world, both human and vampyre.
Found (A Mickey Bolitar Novel, Book 3) / Harlan Coben – Mickey Bolitar and his friends continue to investigate the Abeona Shelter, while Mickey searches for answers about his father's tragic death. "Rife with yet more unanswered questions – most notably, whether or not his father is actually dead – this third Mickey Bolitar mystery starts at a swift pace and never lets up." – Booklist
Emergent (Beta Series, Book 2) / Rachel Cohn – Elysia has finally learned that she has a soul and although she knows it hurts Zhara, her First, that Alexander has chosen her as his life mate, Elysia cannot give him up and instead takes her place fighting by his side in the revolution of clones and humans against Denesme's twisted regime.
The Vast And Brutal Sea (The Vicious Deep, Book 3) / Zoraida Córdova – As Kurt and Tristan battle for the Sea King's throne, sea witch Nieve kidnaps Layla and raises an army of mutant sea creatures to overthrow the crown. "The fantasy epic features a diverse cast of mermen, sea witches, vampires, fairies, and all manner of supernatural creatures. Fans will be sad to see this trilogy come to a close." – School Library Journal
The Rule Of Thoughts (The Mortality Doctrine, Book 2) / James Dashner –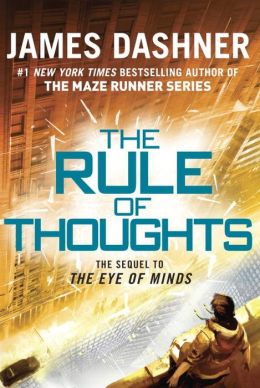 Michael and his friends, Sarah and Bryson, are still being chased by a cyber-terrorist. And now the government is after them, too. "This book will satisfy the author's fans, reluctant readers, and gamers in search of an adrenaline rush." – School Library Journal
The Dark Shore (The Atlanteans, Book 2) / Kevin Emerson – On the run from EdenWest, Owen, Lily, and Leech cross North American deserts seeking Atlantis and find a third Atlantean, the wild child Seven, who is goddess of the Heliad-7 death cult in Yucatan. "This fast-paced sequel to The Lost Code (2012) reads like a combination of Star Trek, Rick Riordan's The Lightning Thief, and Suzanne Collins's The Hunger Games." – School Library Journal
The Far Dawn (The Atlanteans, Book 3) / Kevin Emerson – Atlanteans Owen and Lilly navigate the frozen Arctic hoping to find the Paintbrush of the Gods–an Atlantean technology that can reverse the course of climate change–before the evil Project Elysium does. "[A] pulsating and heartbreaking final chapter of this postapocalyptic series." – School Library Journal
Unmarked (The Legion, Book 2) / by Kami Garcia – Kennedy Waters and her companions find themselves in a world where vengeance spirits kill, ghosts keep secrets, and a demon walks the Earth. As they learn more about their ancient secret society, its longtime rivals the Illuminati, and Kennedy's mysterious family, they wonder whether Kennedy is really meant to be a member of the Legion. "Garcia's cinematic scenes full of timely reveals, terrifying moments of demonic possession, and crackerjack detective work zip on by with a pace that rivals Dan Brown." – Booklist
The Spiritglass Charade (Stoker & Holmes, Book 2) / Colleen Gleason – In 1889 Evaline Stoker, Mina Holmes, and their time traveler friend, Dylan are asked by the Princess of Wales to find out what happened to Robby Ashton, who may have drowned–but the reappearance of vampires in the heart of London threatens to become a more urgent problem. "Gleason's novel is a well-oiled machine. Every literary cog and wheel has its distinct function…yet all work together in easy synchronization." – School Library Journal
Exo (A Jumper Novel) / Steven Gould –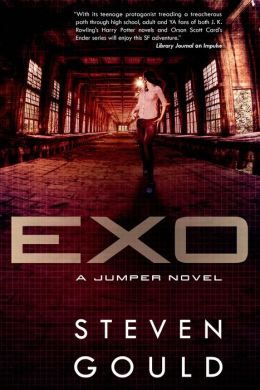 Award-winning author Steven Gould returns to the world of his classic novel Jumper in Exo, the sequel to Impulse , blending the drama of high school with world shattering consequences. "Gould again bridges teen and adult audiences for the story of Cent, who comes from a family of teleporters being sought by the government." – Library Journal
Revealed (The Missing, Book 7) / Margaret Peterson Haddix – After returning the missing children from history to their original time periods, thirteen-year-old Jonah must save time itself when aviator Charles Lindbergh mysteriously appears and kidnaps Jonah's sister.
Whisper The Dead (The Lovegrove Legacy, Book 2) / by Alyxandra Harvey – In 1814 London, Gretchen must put aside annoyance at the constant buzzing caused by being a Whisperer, concern about her twin brother, her growing feelings for a member of the Order of Iron Nail, and the boredom of being a debutante when a new menace threatens Mayfair. "An entertaining mix of Regency romance and magic… the pace and excitement never let up, and the surprising ending will leave readers eagerly anticipating the final volume." – Booklist
Charmed Vengeance (The Aether Chronicles, Book 2) / Suzanne Lazear – When sixteen-year-old Noli joins the crew of her brother's air-pirate ship, she learns that the ship has been hired by power-hungry forces from the Realm of Faerie. "A wonderful steampunk adventure." – Booklist
Fragile Destiny (The Aether Chronicles, Book 3) / Suzanne Lazear – To prevent the Realm of Faerie from falling under the sway of the dark king, seventeen-year-old Noli and her friends rush to find and protect the pieces of a powerful artifact. "Lazear's storytelling is rich in surprise twists as well as sardonic wit." – Booklist
The Caller (Shadowfell Trilogy, Book 3) / Juliet Marillier –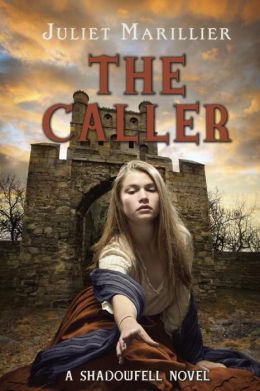 In this conclusion of the Shadowfell trilogy, Neryn, the rebels, and the Good Folk must work together to survive their final confrontation with King Keldec. "An epic fantasy for fans of Tamora Pierce and Kristin Cashore." – School Library Journal
Maid Of Deception (Maids of Honor series, Book 2) / Jennifer McGowan – In 1559 England, Beatrice and her fellow Maids of Honor, Queen Elizabeth I's secret all-female guard, must rely on their charm and deadly spying skills to investigate a brewing Scottish rebellion. "The well-paced narrative creates a drama of court intrigue laced with treacherous secrets, dangerous liaisons, and passionate embraces." – Booklist
Four: A Divergent Collection (Divergent series) / Veronica Roth – A collection of four pre-Divergent stories plus three additional scenes from Divergent, all told from Tobias's point of view, that follow Tobias's transfer from Abnegation to Dauntless, his Dauntless initiation, the first clues that a foul plan is brewing in the leadership of two factions, and the weeks after he meets Tris Prior. "Roth's storytelling retains the same mix of tension, uncertainty, and hope that made the original stories irresistible." – Publishers Weekly
Family (Zom-B, Book 9) / Darren Shan – Now a prisoner of the most heinous survivors of the human race, B finds herself at the mercy of her enemies and discovers the fate of her parents and friend Vinyl, calling into question how much she is willing to sacrifice in the name of justice.
The Queen Of Zombie Hearts (The White Rabbit Chronicles, Book 3) / Gena Showalter – Ali's relationship with zombie slayer Cole is challenged by an Anima Industries attack that kills four of her friends, leading to the surprising discovery of her own zombie-controlling abilities.
Blue Lily, Lily Blue (The Raven Cycle, Book 3) / Maggie Stiefvater –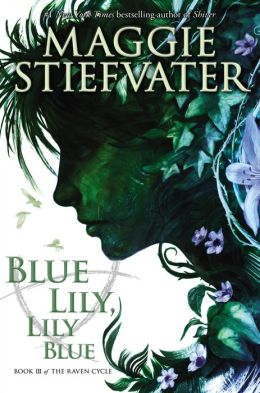 Blue and the Raven boys continue their search for the tomb of Glendower, the ancient Welsh king, as well as for Blue's mother, who has disappeared underground in search of her former lover. "Like the first two volumes, Stiefvater's third is a marvel of imagination and invention." – Booklist starred review
The Perilous Sea (The Elemental Trilogy, Book 2) / Sherry Thomas – After returning to Eton College, Titus makes a shocking discovery in his mother's diary that causes him to question everything he believed about his and Iolanthe's Mission. "Some clever subversions of traditional fantasy plotlines make this series a smart choice for thoughtful fantasy readers who like a complicated backstory." – School Library Journal
Once We Were (The Hybrid Chronicles, Book 2) / Kat Zhang – In the sequel to What's Left of Me, fifteen-year-old Addie and Eva struggle to share their body as they are drawn deeper into the fight for hybrid freedom from the government's oppression. "Zhang has envisioned a complex, unique world and deftly brings it to life." – School Library Journal
Echoes Of Us (The Hybrid Chronicles, Book 3) / Kat Zhang – Fifteen-year-old Addie and Eva, still sharing a body as they fight for hybrid freedom, jump at the chance to go undercover and film the wretched conditions of a hybrid institution, but the price they might pay for the hope of a better future is higher than they could have imagined. "A satisfying conclusion that examines the power of story and what it means to be human." – School Library Journal