* * * * *
'tis the season for 'Best Of' lists with plenty of suggestions for the best books of 2014! With so many great books out there, it can be a daunting task to pick out the best of the best. After spending a few weeks compiling titles from various sources, I came up with the books that appear on the most lists. Last year's picks for best YA books of the year were Rainbow Rowell's novel Eleanor & Park and Gene Yuen Lang's pair of graphic novels Boxers and Saints.
I go to my usual sources of book reviews (School Library Journal, Booklist, etc.), then check out a few other media outlets that have year-end reviews as well. Here are my Top 15 Best YA Books lists of 2014…
Amazon.com — Best Books of 2014 > Teen and Young Adult
Barnes & Noble — The Best New Books of 2014 For Teens
Buzzfeed Books — The 17 Best YA Books of 2014
The Boston Globe — Best Young Adult Novels of 2014
Booklist — 2014 Editors' Choice > Books For Youth
Goodreads — Best Young Adult Fiction of 2014
Horn Book — Fanfare: Our Choices for the Best Books of 2014
Kirkus Reviews — Best Teen Books of 2014
Mashable — The 10 Best YA Books of 2014
National Public Radio — NPR's Book Concierge: Our Guide to 2014's Great Reads > Young Adult
New York Public Library — Best Books For Teens 2014!
The New York Times — Notable Children's Books of 2014
Publishers Weekly — Best Books of 2014: Young Adult
School Library Journal — Best Books 2014 > Young Adult Fiction and Nonfiction
TIME Magazine — Top 10 YA Books of 2014
Each list is a little different — some include just fiction or nonfiction, some include both, and some include books for all ages, from which I pick the ones written for teen and young adults (again, it's a daunting task!)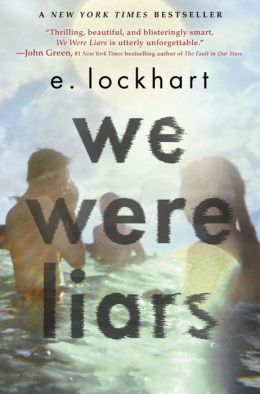 This year, from the 15 lists I drew from, 1 title showed up on 13 of them: E. Lockhart's We Were Liars (a YA novel about greed and secrets). Another book was on 10 lists (Jandy Nelson's I'll Give You The Sun), one was on 9 (Mariko Tamaki's This One Summer), and one appeared on 8 (Laurie Halse Anderson's The Impossible Knife of Memory). Two books showed up on 7 best of lists (Glory O'Brien's History of the Future by A.S. King and Jacqueline Woodson's Brown Girl Dreaming). One title made it onto 6 best of lists, four books were on 5, and six were on 4. Those 17 books make up the CA Library Best YA Books of 2014 Superlist!
The Best of the Best…
And the Rest of the Best…