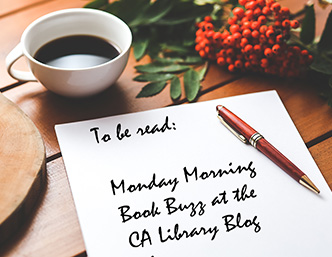 Welcome to the Monday Morning Book Buzz, a preview of notable books being released this week. Some of them will be added to the Academy Library collection; if you read about a title that you would like added, let me know by either commenting on this post or by contacting me directly at the Library — batemane@canandaiguaschools.org.
Notable New Releases for the week of November 9th:
Winter (Lunar Chronicles Series #4)
by Marissa Meyer — Princess Winter, admired by the Lunar people for her grace and kindness, teams up with the cyborg mechanic, Cinder, and her allies, to defeat Queen Levana and find their happily ever afters. "Meyer bestows all four heroines with individual "happily ever afters," before she herself moves on to tackle another childhood story, Alice in Wonderland. A new series? We shall see" (Booklist starred review).
"YA author Marissa Meyer reaches for the stars with her 'Lunar Chronicles'" (Seattle Times)
Unforgiven by Lauren Kate — It's the book FALLEN fans have been waiting for: Cam's story, the brooding, bad-boy dark angel readers love. Cam knows what it's like to be haunted. He's spent more time in Hell than any angel ever should. And his freshest Hell is high school, where Lilith, the girl he can't stop loving, is serving out a punishment for his crimes. "Engaging enough to keep Kate's legions of fans happy" (Kirkus Reviews).
Soundless by Richelle Mead — A fantasy adventure steeped in Chinese folklore about a teenage girl named Fei. When her village is suddenly in danger, Fei finds herself on a journey from the peak of her jagged mountain village to the valley of Beiguo, where a startling truth and an unlikely romance will change her life forever. "Like her heroine, Mead paints with a delicate brush, creating a fablelike story that melds folktale, sacrifice, romance, and the stark realization of humanity's capacity to exploit others for profit" (Publishers Weekly).
Triple Moon
by Melissa de la Cruz — From the New York Times bestselling author of Blue Bloods and Witches of East End. Twin witches (and Norse goddesses) Molly and Mardi Overbrook are sent to North Hampton for the summer where they must learn to control their powers before the White Council exiles them to Limbo. "The sense of place and ties to Greek mythology give depth and personality to this first in a spinoff series" (Booklist).
"The 'Witches of East End' Short Story: 5 Conclusions to Get Excited About" (YahooTV!)
Dangerous Lies by Becca Fitzpatrick — A teen is forced to make a fresh start after witnessing a violent crime—but love and danger find her anyway in this novel from the New York Times bestselling author of the Hush, Hush saga. "Romance features heavily in this thriller, with crime elements relegated to the background until the end, when the inevitable confrontation with a drug cartel's hitman surges forward" (Booklist).
Da Vinci's Tiger by L.M. Elliott — For fans of rich and complex historical novels like Girl with a Pearl Earring or Code Name Verity, Elliott delivers the stunning tale of real-life Renaissance woman Ginevra de' Benci, the inspiration for one of Leonardo da Vinci's earliest masterpieces. "Renaissance Florence breathes through this book, bringing readers to a fuller understanding of the portrait, the era, and an indomitable young woman" (Publishers Weekly).
Da Vinci's Tiger is a Publishers Weekly Books of the Week Pick
This Way Home
by Wes Moore with Shawn Goodman — Elijah Thomas knows one thing better than anyone around him: basketball. At seventeen, he's earned the reputation of a top-level player, one who steps onto the court ready for battle, whether it's a neighborhood pickup game or a tournament championship. When he takes a stand against a sinister street gang, he finds himself in a struggle to balance hope and fear, revenge and forgiveness, to save his neighborhood. "Brimming with hard realities about the choices we make, the friendships we keep, and the unlikely allies we find along the way, this affecting novel helps to fill the gaping hole left by Walter Dean Myers' passing" (Booklist).
The August 5 by Jenna Helland — As the son of a government official, fourteen-year-old Tommy Shore lives a life of privilege: he has the finest clothing, food, and education available and servants to take care of his every whim. Meanwhile, fifteen-year-old Tamsin Henry has grown up knowing only poverty, the daughter of a revolutionary who longs to give her and their people more. When chance brings them together on the day of a violent and deadly revolt, Tommy uncovers a brutal truth about his father. "Future volumes may have some surprises, as Tamsin soon assumes a leadership role in the revolution, becoming a character reminiscent of Katniss Everdeen" (Booklist).
Consent by Nancy Ohlin — An intense bond between high school senior Bea and her music teacher turns into a passionate affair, but when their affair turns into a scandal, Bea wonders if their romance was ever real. "Ohlin delivers an open-ended novel ripe for discussion as readers follow the plot's twists and turns" (School Library Journal).
Young Widows Club
by Alexandra Coutts — For seventeen-year-old Tam, running off to marry her musician boyfriend is the ideal escape from her claustrophobic life. But when Tam becomes a widow just weeks later, the shell-shocked teen is forced to find her way forward by going back to the life she thought she'd moved beyond. "This intense and emotionally charged novel adeptly examines the five stages of grief and how one teen handles marriage, death, and rebirth. A must-have for YA collections" (School Library Journal).