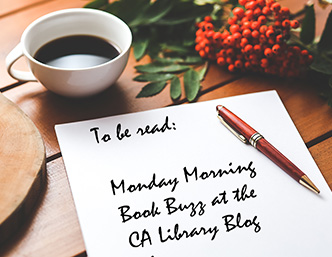 Welcome to the Monday Morning Book Buzz, a preview of notable books being released this week. Some of them will be added to the Academy Library collection; if you read about a title that you would like added, let me know by either commenting on this post or by contacting me directly at the Library — batemane@canandaiguaschools.org.
Notable New Releases for the week of November 16th:
The Game of Lives (The Mortality Doctrine, Book 3) by James Dashner (11/17) — The final book in the Mortality Doctrine series, an edge-of-your-seat cyber-adventure trilogy. Michael used to live to game, but the games he was playing have become all too real — the VirtNet has become a world of deadly consequences. "The best of the bunch…a fitting end to an exceptional trilogy" (Kirkus Reviews).
Maze Runner Writer James Dashner Is Ending His New Saga—And We've Got An Exclusive Look (io9)
The Golden Braid by Melanie Dickerson (11/17) — Rapunzel can throw a knife better than any man. She paints beautiful flowering vines on the walls of her plaster houses. She sings so sweetly she can coax even a beast to sleep. But there are two things she is afraid her mother might never allow her to do: learn to read and marry. "This retelling, set in the Holy Roman Empire in 1413, incorporates elements of romance, deceit, and revenge through a Christian fiction lens. [Dickerson's]  will adore this new tale" (School Library Journal).
Strange Girl by Christopher Pike (11/17) — A fascinating and seductive new novel about a girl with a mysterious ability—but one that carries an unimaginable cost. From the moment Fred meets Aja, he knows she's different. She's pretty, soft-spoken, shy—yet seems to radiate an unusual peace. Fred quickly finds himself falling in love with her. Then strange things begin to happen around Aja. A riot breaks out that Aja is able to stop by merely speaking a few words. A friend of Fred's suffers a serious head injury and has a miraculous recovery. Yet Aja swears she has done nothing. "This title is a departure from the horror genre, leaning heavily toward the paranormal. Make room on the shelf for the latest offering from a longtime YA writer" (School Library Journal).
Everything But The Truth (An If Only Novel) by Mandy Hubbard (11/17) — Holly Mathews' mom is the new manager of a ritzy retirement home, and they just moved in, which means Holly's neighbors are all super-rich retirees — and gorgeous, notorious Hollywood playboy Malik Buchannan is the grandson of one of the residents. Just one problem: when they meet, Malik assumes Holly's there to visit her own rich relative. She doesn't correct him, and it probably doesn't matter, because their flirtation could never turn into more than a superficial fling . . . right? "Hubbard's lighthearted romance pulls in Cinderella motifs, while using suspense and complicated subterfuge to step up the plot's pace…a fun, romantic romp" (Booklist).
Until The End by Abbi Glines (11/17) — The backstory that fans have been clamoring for—how Rock and Trisha fell in love—is the final novel in the Sea Breeze series from bestselling author Abbi Glines. "Glines writes of Trisha's abusive family fairly compellingly, with most of the plot relying on her plight. Rough and raw" (Kirkus Reviews).