A growing trend in book publishing is adaptations — popular adult titles rewritten to make them more appealing and accessible to younger readers. Sometimes the original author writes the adaptation, and sometimes it is left to collaborator. Regardless, the intent is to make the material available to a wider audience. Here are some recent YA adaptations in the CA Library collection: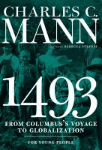 1493 For Young People: From Columbus's Voyage to Globalization by Charles C. Mann, adapted by Rebecca Stefoff — Traces the story of globalization through travel, trade, colonization, and migration from the fifteenth century to the present, documenting the historical impact of such influences as potatoes, the rubber plant, and malaria. "Stefoff abridges and simplifies Mann's adult title 1493: Uncovering the New World Columbus Created (Knopf, 2011), objectively describing how European exploration and the resulting Columbian Exchange of plants, animals, and diseases rapidly made the world "global" in outlook and practice, with a mixed legacy of wealth and higher living standards, oppression, losses of entire populations, and environmental degradation" (School Library Journal).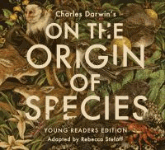 Charles Darwin's On The Origin of Species, adapted by Rebecca Stefoff — This Young Reader's Edition makes Darwin's cornerstone of modern science accessible to readers of all ages. Meticulously curated to honor Darwin's original text, this compelling edition also provides contemporary insight, photographs, illustrations, and more. "An ever-increasing number of science books introduce Darwin's work to young readers. The strength of this attractive volume is that it gives them direct access to Darwin's words on the topic of natural selection, along with informative updates and explanations" (Booklist).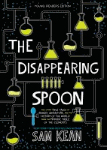 The Disappearing Spoon: And Other True Tales of Rivalry, Adventure, and the History of the World From The Periodic Table of Elements by Sam Kean, adapted by Adrian Dingle and Kelsey Kennedy — Presents historical background for the periodic table and follows the elements as they play out in human history and the stories of the scientists who discovered them. "The book is divided into four parts which are further distilled into chapters, enhancing its readability. The writing style is conversational and never dry" (School Library Journal).
Dreamland: The True Tale of America's Opiate Epidemic by Sam Quinones, adapted by the author — As an adult book, Sam Quinones's Dreamland took the world by storm, winning the NBCC Award for General Nonfiction and hitting at least a dozen Best Book of the Year lists. Now, adapted for the first time for a young adult audience, this compelling reporting explains the roots of the current opiate crisis. "A scrupulously researched, well-crafted tale that sheds light on a timely topic" (Kirkus Reviews).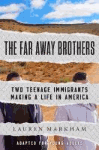 The Far Away Brothers: Two Teenage Immigrants Making A Life In America by Lauren Markham, adapted by the author — Identical twins Ernesto and Raul Flores, seventeen, must flee El Salvador, make a harrowing journey across the Rio Grande and the Texas desert, face capture by immigration authorities, and struggle to navigate life in America. "While the twins' immigration story is the focal point, Markham adds nuance by including their typical teen troubles with romance and social media, plus the perspectives of their friends and family back home, in addition to that of the person who took responsibility for them in the U.S. Visceral and informative, this is a necessary read for today's youth" (Booklist).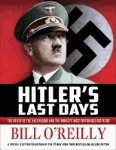 Hitler's Last Days: The Death of the Nazi Regime and the World's Most Notorious Dictator by Bill O'Reilly, adapted by the author — By early 1945, the destruction of the German Nazi State seems certain. Facing defeat, Adolf Hitler flees to a secret bunker with his new wife, Eva Braun, and his beloved dog, Blondi. It is there that all three would meet their end, thus ending the Third Reich and one of the darkest chapters of history. "Short entries at the end detail particulars, and the index and time line are thorough and useful. A helpful additional resource for social studies students and WWII buffs" (Booklist).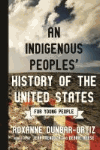 An Indigenous Peoples' History of the United States For Young People by Roxanne Dunbar-Ortiz, adapted by Debbie Reese and Jean Mendoza — Going beyond the story of America as a country "discovered" by a few brave men in the "New World," Indigenous human rights advocate Roxanne Dunbar-Ortiz reveals the roles that settler colonialism and policies of American Indian genocide played in forming our national identity. "This adaptation … should be required reading for all middle and high schoolers—and their teachers. Dunbar-Ortiz's scrutinous accounts of Indigenous histories are well-known among history buffs, and in this revision, the same level of detail is maintained while still accommodating a teenage audience" (Booklist).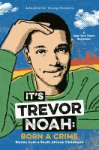 It's Trevor Noah: Born A Crime, Stories From a South African Childhood by Trevor Noah, adapted by the author — The host of The Daily Show, Trevor Noah tells the story of growing up half black, half white in South Africa under and after apartheid in this young readers' adaptation of his bestselling adult memoir. "A necessary purchase for readers who will appreciate and understand how a parent's love enabled Noah to become the successful man he is now" (School Library Journal).
Just Mercy: A True Story of the Fight For Justice by Bryan Stevenson, adapted by the author — In this very personal work — adapted from the original #1 bestseller, which the New York Times calls "as compelling as To Kill a Mockingbird, and in some ways more so" — acclaimed lawyer and social justice advocate Bryan Stevenson offers a glimpse into the lives of the wrongfully imprisoned and his efforts to fight for their freedom. "Classrooms and book groups will find plenty to discuss and debate. Compassionate and compelling, Stevenson's narrative is also unforgettable" (Booklist).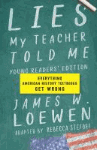 Lies My Teacher Told Me: Everything American History Textbooks Get Wrong by James W. Loewen, adapted by Rebecca Stefoff — Beginning with pre-Columbian history and then covering characters and events as diverse as the first Thanksgiving, Helen Keller, the My Lai massacre, 9/11, and the Iraq War, Loewen's lively, provocative telling of American history is a "counter-textbook that retells the story of the American past" (The Nation). "An important and necessary purchase for all secondary schools who want students to develop a love and appreciation for U.S. history while seeing it with clearer eyes" (School Library Journal).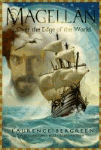 Magellan: Over The Edge of the World, The True Story of the Terrifying First Circumnaviation of the Globe by Laurence Bergreen, adapted by the author — On September 6, 1522, a battered ship manned by eighteen malnourished, scurvy-ridden sailors appeared on the horizon near a Spanish port. They were survivors of the first European expedition to circle the globe. Originally comprised of five ships and 260 sailors, the fleet's captain and most of its crew were dead. How did Ferdinand Magellan's voyage to circle the world–one of the largest and best-equipped expeditions ever mounted–turn into this ghost ship? The answer is provided in this thoroughly researched tale of mutiny and murder spanning the entire globe, marked equally by triumph and tragedy. "Although condensed from the original, this version remains sophisticated and will appeal most to skilled teen readers and even adults" (Booklist).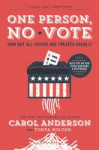 One Person, No Vote: How Not All Voters Are Treated Equally by Carol Anderson, adapted by Tonya Bolden — In her New York Times bestseller White Rage, Carol Anderson laid bare an insidious history of policies that have systematically impeded black progress in America, from 1865 to our combustible present. With One Person, No Vote, she chronicles a related history: the rollbacks to African American participation in the vote since the 2013 Supreme Court decision that eviscerated the Voting Rights Act of 1965. "Bolden's adaptation will fire up a new generation of civic activists through its gripping presentation. A significant people's history and call to action for youth" (Kirkus Reviews).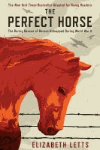 The Perfect Horse: The Daring Rescue of Horses Kidnapped by Hitler by Elizabeth Letts, adapted by the author — American soldiers, aided by an Austrian colonel who was both an Olympian and a trainer of Lipizzaners, attempt to kidnap horses that had been taken by Nazis "for the glorification of the Third Reich" and smuggle them to safety. "This account of the heroism and cooperation of unlikely people to protect these horses is spellbinding. The author's impeccable attention to detail and exhaustive sources make this a must-read" (Booklist).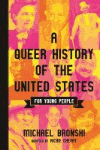 A Queer History of the United States For Young People by Michael Bronski, adapted by Richie Chevat — Chronicles the history of homosexuality in the United States from the Puritans through the twentieth century, examining the role of gays, lesbians, bisexual, and transgendered individuals in shaping American culture. "This adaptation for teens of the Bronski's 2012 Stonewall Award-winning A Queer History of the United States is doubly valuable; it serves well as a general read and fills a clear curricular need. An overall successful adaptation of an important work, rich with content relevant to all disciplines and beyond" (School Library Journal).
We Are Not Yet Equal: Understanding Our Racial Divide by Carol Anderson, adapted by Tonya Bolden — Presents the argument that since the passage of the Thirteenth Amendment, when African Americans make advances toward full participation in our democracy, white reaction feeds deliberate and relentless rollback of their progress. "Using this easy-to-follow informational text with a robust list of citations, readers can witness 150 years of continuous systemic racism and deeply understand the mechanism by which federal protection is given then taken away by special agency, state, or local political action. A needed resource for YA nonfiction collections" (School Library Journal).