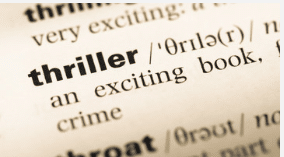 We continue our series of posts featuring some of the best books in the CA Library collection — today's featured titles are all thrillers. Follow the links for each book to learn more from the CA Library catalog!
If an eBook and/or audiobook is available, links are also provided (Sora login is required).
All Eyes On Her by Laurie Elizabeth Flynn — A gripping young adult thriller told from the perspective of everyone except the alleged killer — a seventeen-year-old girl. "The whirlwind back-and-forth will keep readers guessing at the truth — and second-guessing their own biases — until the very end. A frenzied psychological thriller, superbly paced" (Booklist).
The Cousins by Karen M. McManus — After receiving an invitation to spend the summer with their estranged grandmother, the Story cousins arrive at her house only to discover that she is not there, and the longer they stay on the island, the more they realize their mysterious family history has some deadly secrets. "McManus weaves past and present to take readers on a well-paced, twisty ride that will hold readers rapt till the last page" (Publishers Weekly). Get the eBook | Get the Audiobook (Sora login required).
The Enigma Game by Elizabeth Wein — Told in multiple voices, fifteen-year-old Jamaican Louisa Adair uncovers an Enigma machine in the small Scottish village where she cares for an elderly German woman, and helps solve a puzzle that could turn the tide of World War II. "Just the ticket for lovers of historical thrillers and Wein's many fans" (School Library Journal). Get the eBook (Sora login required).
Even If We Break by Marieke Nijkamp — Friends Finn, Liva, Maddy, Carter, and Ever begin a farewell round of the game they have played for three years, but each is hiding secrets and the game itself seems to turn against them. "Nijkamp's (This Is Where It Ends) psychological thriller again showcases the author's talent in drawing readers into characters' internal struggles" (Publishers Weekly). Get the eBook (Sora login required).
Every Single Lie by Rachel Vincent — High school junior Beckett's life is turned upside-down when she discovers a dead baby in her small-town high school's locker room, and her police detective mother investigates while cyberbullies claim it is Beck's child. "Beckett's decisions drive the plot, leading her and the reader through enough twists and turns that there is no way to stop turning the pages" (Booklist).
The Girl In The White Van by April Henry — When Savannah disappears soon after arguing with her mom's boyfriend, everyone assumes she's run away. The truth is much worse; she's been kidnapped by a man in a white van who locks her in an old trailer home, far from prying eyes. Worse yet, Savannah's not alone: ten months earlier, Jenny met the same fate and nearly died trying to escape. "With a simple plot and relentless pace, this thrill-ride of a book will absolutely satisfy readers looking for pulse-quickening action and smart, resilient heroes" (Booklist).
Good Girl, Bad Blood by Holly Jackson — In this sequel to A Good Girl's Guide To Murder (2020), Pip is not a detective anymore. With the help of Ravi Singh, she released a true-crime podcast about the murder case they solved together last year. The podcast has gone viral, yet Pip insists her investigating days are behind her. But she will have to break that promise when someone she knows goes missing. "Podcast transcripts, Instagram messages, and news articles with time stamps marking the growing length of the missing girl's absence piece together a thrilling puzzle that will keep readers asking questions even after the story's end" (Kirkus Reviews). Get the eBook | Get the Audiobook (Sora login required).
Illegal by Francisco X. Stork — To escape the violent cartel that is after them in Mexico, siblings Sara and Emiliano flee across the border, seeking a better life in the United States and hoping to bring their pursuers to justice, only to discover that an even greater danger awaits them. "In this sequel to Disappeared (2017), Stork delivers another thrilling story, carefully juxtaposing the issues asylum seekers face with the experiences of 'illegal' immigrants in a dual-perspective first-person narrative" (Publishers Weekly).
The Initial Insult by Mindy McGinnis — Ostracized by the elite community of Amontillado, Ohio, after the disappearance of her parents, Tress organizes a Halloween costume party at an abandoned house, where she launches a macabre plan to force a popular former friend to confess what she knows. "Well-versed Poe fans will gobble this up, but the heartache, revenge, and anger that ooze from these pages should entice any reader" (School Library Journal). Get the eBook (Sora login required).
The Project by Courtney Summers — Lo Denham wants to expose the Unity Project as a cult and reconnect with her indoctrinated sister, but as she immerses herself in the group with no signs of Bea, Lo begins to question everything she thought was true. "If All the Rage (2015) put Summers on the map, Sadie (2018) shot her into the stratosphere. This latest, her tightest yet, delivers on every promise" (Booklist). Get the Audiobook (Sora login required).