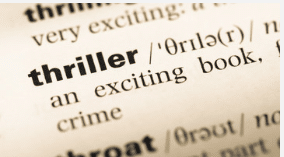 We continue our series of posts featuring some of the best books in the CA Library collection — today's featured titles are all thrillers. Follow the links for each book to learn more from the CA Library catalog!
If an eBook and/or audiobook is available, links are also provided (Sora login is required).
Catfishing On CatNet (CatNet, Book 1) by Naomi Kritzer – Steph hasn't stayed in one place longer than six months. Her only constant is an online community called CatNet — a social media site where users upload cat pictures — a place she knows she is welcome. What Steph doesn't know is that the admin of the site, CheshireCat, is a sentient A.I. "Alongside the uplifting message about inclusivity, diversity, and found family — characters of various ethnicities identify as gay, bisexual, nonbinary, asexual, and still exploring — Kritzer's take on a benevolent AI is both whimsical and poignant" (Publishers Weekly). Get the eBook
Death Prefers Blondes by Caleb Roehrig — Teenage socialite Margo Manning leads a double life. By day, she dodges the paparazzi while soaking up the Los Angeles sunshine. By night, she pulls off increasingly dangerous heists with a crew of teenage drag queens. "Balancing Oceans 11–level heists, corporate espionage, and gender and sexual identity politics isn't easy, but Roehrig manages it with aplomb…clever, thrilling, and a wildly good time" (Booklist). Get the eBook
COMING SOON! Every Line Of You by Naomi Gibson — In the face of overwhelming grief and bullying, tech-savvy Lydia pours all of herself into creating the perfect A.I., the perfect boyfriend — but will Henry turn out to be perfect, or a creation of her cruelest self? "Modern sci-fi at its very best" (School Library Journal).
Firekeeper's Daughter by Angeline Boulley — Daunis, who is part Ojibwe, defers attending the University of Michigan to care for her mother and reluctantly becomes involved in the investigation of a series of drug-related deaths. "Boulley doesn't shy away from or sugar-coat the very real circumstances that plague reservations across the country, and she tackles these through her biracial hero, who gets involved in the criminal investigation into the corruption that led to this pain. An incredible thriller, not to be missed" (Booklist). Get the eBook | Get the Audiobook
COMING SOON! I Must Betray You by Ruta Sepetys — In a country governed by isolation, fear, and a tyrannical dictator, seventeen-year-old Cristian Florescu is blackmailed by the secret police to become an informer, but he decides to use his position to try to outwit his handler, undermine the regime, give voice to fellow Romanians, and expose to the world what is happening in his country. "The last line will leave readers gasping. Compulsively readable and brilliant" (Kirkus Reviews). Get the eBook | Get the Audiobook
COMING SOON! The Last Laugh (The Initial Insult, Book 2) by Mindy McGinnis — The exciting sequel to The Initial Insult! As her mind slips deeper into delirium, Tress tries to keep it together long enough to finally find out what happened to her parents, while her cousin prepares to exact revenge on all who have done him wrong — including Tress. "Readers must be familiar with the first book to fully appreciate this one. Masterfully modernizing the gothic horror genre, McGinnis outdoes herself" (Kirkus Reviews).
The Mary Shelley Club by Goldy Moldavsky — Scholarship student Rachel keeps to herself at Manchester Prep, preferring the company of horror films to trust fund babies. When a prank puts her on the radar of a mysterious student society, 'The Mary Shelley Club', they subject her to a number of escalating Fear Tests which eventually puts them on the radar of a serial killer. "This twisty tour de force from Moldavsky (No Good Deed) is at once a gripping teen melodrama, an incisive meditation on fear, and a love letter to horror and the genre's tropes" (Publishers Weekly). Get the Audiobook
The Missing Season by Gillian French — Whenever another kid goes missing in October, the kids in the old factory town of Pender know what is really behind it: a monster out in the marshes that they call the Mumbler. That's what Clara's new crew tells her when she moves to town — and as Halloween gets closer and tensions build in the town, it's hard to shake the feeling that there really is something dark and dangerous in Pender. "A spare, spectral thriller that catches like a hook and doesn't let go" (Booklist).
Oasis by Katya De Becerra — Alif had exciting summer plans: working on her father's archaeological dig site in the desert with four close friends…and then the sandstorm hit. Their camp wiped away, Alif and the others find themselves lost on the sands, seemingly doomed — until they find the oasis. It has everything they need: food, water, and shade — and mysterious ruins that hide a deadly secret. "Suspense, gore, spooky imagery, and creepy plot developments come through via bloodcurdling nightmares, group hallucinations, and uncontrollable desires and obsessions. De Becerra's haunting supernatural thriller will stick to readers' skin long after the final page is turned" (Booklist).
Roxy by Neal Shusterman and Jarrod Shusterman — Two siblings get caught up in a wager between two manufactured gods, Roxicodone and Adderall, in this thriller inspired by the opioid crisis. " This allegorical take on the opioid epidemic provides an utterly unique point of view on the lives of those struggling with drug dependencies. Gritty and unflinching, this book portrays the opioid crisis in a way readers can feel and understand" (Booklist). Get the Audiobook
Some Kind of Animal by Maria Romasco Moore — Suspected of attacking a boy from town and determined to protect her secrets and her twin sister, Jo flees into the woods, where she discovers the truth behind her mother's disappearance fifteen years ago. "A nonstop mystery thriller that will keep readers on their toes.. Strongly recommended for fans of mysteries and dramatic thrillers akin to Natasha Preston's The Cellar" (School Library Journal).
Teen Killers Club by Lily Sparks — Framed for the murder of her best friend, a young girl joins a super-secret society of teenage assassins to avoid a lifetime behind bars — and discovers her own true self — in this mesmerizing debut novel. "Sparks crafts a page-turner with a disturbingly unusual premise, snappy dialogue, and characters that go deeper than their heinous crimes. A mystery/thriller that's equal parts heartfelt and shocking" (Kirkus Reviews). Get the eBook | Get the Audiobook 
White Smoke by Tiffany D. Jackson — The Haunting of Hill House meets Get Out in this chilling YA psychological thriller and modern take on the classic haunted house story from bestselling author Tiffany D. Jackson. Believing her new home to actually be alive, especially when her brother almost dies, Marigold and her new blended family won't be safe until she brings the truth to light once and for all. "Jackson is one of the most innovative YA suspense writers in recent years, and her latest is no exception. Spellbinding and thought-provoking" (School Library Journal). Get the eBook | Get the Audiobook