It's Banned Books Week! Each year, libraries, schools, publishers, booksellers and readers across the country join together to combat censorship and recognize your right to read.
Every year, the American Library Association publishes a list of the 10 books most frequently challenged for inappropriate content.
In 2013, those books were: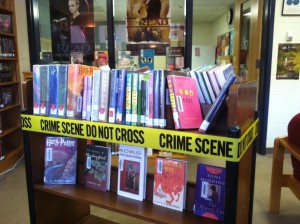 Naturally, some of these titles are not in the CA Library collection because they are not age-appropriate and don't meet our selection criteria. But many are, and are featured in the Banned Books display near the New Book section of the library.
Too Graphic? 2014 Banned Books Week Celebrates Challenged Comics — "Comics and graphic books are flourishing these days — writers and illustrators are taking on increasingly sophisticated topics and children's authors are finding just the right balance between naughty and nice. But a number of the books have come under fire from critics who would like to see them banned from schools and libraries. That's why comics and graphic books are the focus of this year's Banned Books Week, an annual event that calls attention to challenged titles."