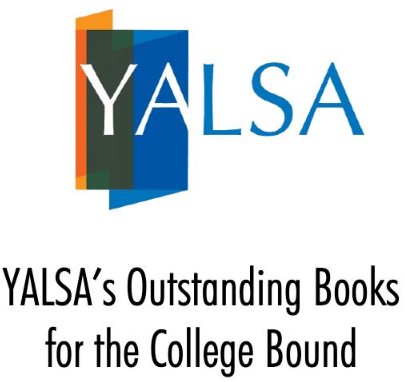 Every five years, the Young Adult Library Services Association (YALSA) updates its list of Outstanding Books For The College-Bound and Lifelong Learners, books that "offer opportunities to discover new ideas, and provide an introduction to the fascinating variety of subjects within an academic discipline." The most recent list, published in 2019, includes over 100 titles in the areas of Arts and Humanities, History and Cultures, Literature and Language Arts, Science and Technology, and Social Sciences.
At CA Library, we include many of these outstanding books in our print and digital collections. The list is too long to post on this blog (you can find the full listings at YALSA's website, along with annotations for each book), but here are some of the highlights, in order of popularity (as determined by Overdrive):
Educated: A Memoir by Tara Westover — Born to survivalists in the mountains of Idaho, Tara Westover was seventeen the first time she set foot in a classroom. Her family was so isolated from mainstream society that there was no one to ensure the children received an education. When one of her brothers got himself into college, Tara decided to try a new kind of life. Her quest for knowledge transformed her, taking her over oceans and across continents, to Harvard and to Cambridge University. "A gripping, intimate, sometimes shocking, yet ultimately inspiring work" (School Library Journal). Get the eBook | Get the Audiobook
The Hate U Give by Angie Thomas — Sixteen-year-old Starr Carter moves between two worlds: the poor neighborhood where she lives and the fancy suburban prep school she attends. The uneasy balance between these worlds is shattered when Starr witnesses the fatal shooting of her childhood best friend Khalil at the hands of a police officer. "An inarguably important book that demands the widest possible readership" (Booklist). Get the eBook | Get the Audiobook
The Nickel Boys: A Novel by Colson Whitehead — 1960s Florida. Kept on the straight and narrow by his grandmother, Elwood Curtis is about to enroll in the local black college. But for a black boy in the Jim Crow South, one mistake is enough to destroy the future. He is sentenced to a juvenile reformatory called the Nickel Academy, where the sadistic staff abuse the students, corrupt officials and locals steal food and supplies, and any boy who resists is likely to disappear "out back." "Inspired by horrific events that transpired at the real-life Dozier School for Boys, Whitehead's brilliant examination of America's history of violence is a stunning novel of impeccable language and startling insight" (Publishers Weekly). Get the eBook | Get the Audiobook
An Indigenous Peoples' History of the United State by Roxanne Dunbar-Ortiz — Historian and activist Roxanne Dunbar-Ortiz offers a history of the United States told from the perspective of Indigenous peoples and reveals how Native Americans, for centuries, actively resisted expansion of the United States. Spanning more than four hundred years, this classic bottom-up peoples' history radically reframes US history and explodes the silences that have haunted our national narrative. "Meticulously documented, this thought-provoking treatise is sure to generate discussion" (Booklist). Get the eBook | Get the Audiobook
Between The World and Me by Ta-Nehisi Coates — Framed as an extended letter to his son, author Ta-Nehisi Coates offers a powerful framework for understanding our nation's current crisis on race, illuminating the past and confronting the present as a way to present a vision forward. "This stunning, National Book Award-winning memoir should be required reading for high school students and adults alike" (School Library Journal). Get the eBook | Get the Audiobook
Just Mercy: A Story of Justice and Redemption by Bryan Stevenson — The founder of the Equal Justice Initiative in Montgomery, Alabama recounts his experiences as a lawyer working to assist those desperately in need, reflecting on his pursuit of the ideal of compassion in American justice. "A passionate account of the ways our nation thwarts justice and inhumanely punishes the poor and disadvantaged" (Booklist). Get the eBook | Get the Audiobook
The Poet X by Elizabeth Acevdeo — A novel-in-verse by an award-winning slam poet, about an Afro-Latina heroine who tells her story with blazing words and powerful truth. Xiomara Batista feels unheard and unable to hide in her Harlem neighborhood. Ever since her body grew into curves, she has learned to let her fists and her fierceness do the talking. But Xiomara has plenty she wants to say, and she pours all her frustration and passion onto the pages of a leather notebook. "Truly a 'lantern glowing in the dark' for aspiring poets everywhere. All YA collections will want to share and treasure this profoundly moving work" (School Library Journal). Get the eBook | Get the Audiobook
An Absolutely Remarkable Thing by Hang Green — The Carls just appeared. Coming home from work, 23-year-old April May stumbles across a giant sculpture. Delighted by its appearance and craftsmanship, April and her friend Andy make a video with it. The next day, she wakes up to a viral video as news quickly spreads that there are Carls in dozens of cities around the world and April, as their first documentarian, finds herself at the center of an intense international media spotlight. "At once funny, exciting, and a tad terrifying, this exploration of aliens and social-media culture is bound to have wide appeal to readers interested in either theme" (Booklist). Get the eBook | Get the Audiobook
Lovely War by Julie Berry — The Greek goddess Aphrodite recounts two tales of tragic love during WWI to her husband, Hephaestus, and her lover, Ares, in a luxe Manhattan hotel room at the height of World War II. She seeks to answer the age-old question: 'Why are Love and War eternally drawn to one another?' but her quest for a conclusion that will satisfy her jealous husband uncovers a multi-threaded tale of prejudice, trauma, and music revealing that War is no match for the power of Love. "This rumination on the costs of war, the healing power of love and music, and the inevitability of death will stay with readers and tug at their hearts" (School Library Journal). Get the eBook | Get the Audiobook
The Fountains of Silence by Ruta Sepetys — At the Castellana Hilton in 1957 Madrid, eighteen-year-old Daniel Matheson connects with Ana Moreno through photography and fate as Daniel discovers the incredibly dark side of the city under Generalissimo Franco's rule. "Compelling primary source materials, such as memos from U.S. presidents, oral history excerpts, and even hotel brochures, precede some chapters and contextualize the narrative. This gripping, often haunting historical novel offers a memorable portrait of fascist Spain" (Publishers Weekly). Get the eBook | Get the Audiobook
You can search for all of these Outstanding Books in the CA Library print collection by visiting the CA Library catalog and searching for "Outstanding Books 2019".
You can also browse our eBook and audiobook copies of these Outstanding Books in the CA Library digital collection in Sora; click here to see the curated list (Sora login is required).