We continue our series of posts featuring some of the best books in the CA Library collection — today's featured titles are all in the Nonfiction section, including biographies and even some graphic memoirs. Follow the links for each book to learn more from the CA Library catalog!
If an eBook and/or audiobook is available, links are also provided (Sora login is required).
The Complete Cookbook for Teen Chefs: 70+ Teen-Tested and Teen-Approved Recipes to Cook, Eat and Share, from America's Test Kitchen — Whether you're looking to make Tik Tok-worthy sticky buns or a simple egg and cheese breakfast sandwiches before school, this cookbook has something for everyone. America's Test Kitchen brings their rigorous testing, kitchen knowhow, and hands-on learning to teenagers in the kitchen. "Cultural, historical, and culinary notes, such as the popularity of onigiri (rice balls) as a Japanese snack and why pizza pockets stay crisp on the outside and gooey in the middle, increase relevancy and interest … a fun and friendly guide for teen foodies" (Booklist). Get the eBook
If I Go Missing by Brianna Jonnie — "When someone who looks like me goes missing," wondered 14-year-old Ojibwe teen Brianna Jonnie, "why does it not get the same swift response from the police and the media as when a white person goes missing?" Brianna put this question to the Chief of Police in a letter, urging them and the media to "do better" when investigating cases of missing Indigenous people. "Jonnie's words put a personal face on this critical issue, and they will resonate with readers long after the last page" (Booklist).
Jill: A Biography of the First Lady by Julie Pace and Darlene Superville — Looks at the life of American educator and first lady of the United States, Dr. Jill Biden, the wife of President Joe Biden. "Jill Biden serves as an approachable role model for readers who want to someday have it all: family, career, and causes they believe in passionately" (Booklist).
The Little Book of Big Ethical Questions by Susan Liautaud — Susan Liautaud, a renowned ethicist who consults clients worldwide from global corporations to NGOs, presents intriguing, useful questions in a clear, appealing way designed to encourage lively discussion. "A good resource for getting teens to talk about important ethical topics" (Booklist).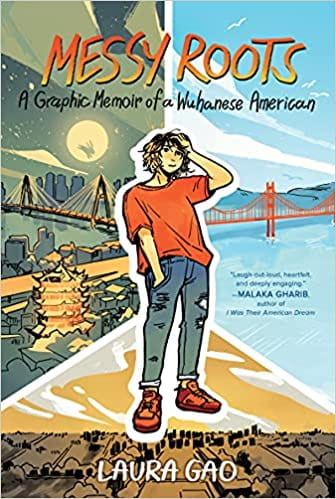 Messy Roots: A Graphic Memoir of a Wuhanese American by Laura Gao — Seamlessly toggling between past and present, this funny graphic memoir follows a queer Chinese American's immigration to Texas where she just wants to make the basketball team, escape Chinese school, and figure out why she is attracted to girls. "A tender story of self-acceptance that lifts the story of Wuhan beyond COVID and shines light on a region with a rich culture and history" (School Library Journal). Get the eBook
Murder Among Friends: How Leopold and Loeb Tried To Commit The Perfect Crime by Candace Fleming – Taking readers back to 1924, this shocking true crime story follows two eighteen-year-old college students who kidnapped and murdered a child they both knew, their trial, and how a renowned defense attorney enabled them to avoid the death penalty. "A chilling page-turner with compelling psychoanalytic aspects not often seen in YA nonfiction. Highly recommended" (School Library Journal). Get the eBook | Get the Audiobook
A Quick & Easy Guide to Asexuality by Molly Muldoon — This book is for anyone who wants to learn about asexuality, and for Ace people themselves, to validate their experiences. "The playful illustrations and casual tone struck by the creators result in an engaging and essential handbook for anyone interested in gaining insight into an oft-misunderstood community" (Library Journal).
Where Have All the Birds Gone?: Nature in Crisis by Rebecca E. Hirsch — In the face of rapidly declining bird populations, read about the vast impacts birds have on ecosystems, food systems, and our mental health and what we can do to protect them. "It's impossible to read this and not recognize the seriousness of the problem, but Hirsch also highlights birds' resilience when given a helping hand, and she devotes the book's final chapter to positive actions readers can take" (Booklist). Get the eBook
You Are More Than Magic: The Black and Brown Girls' Guide to Finding Your Voice by Minda Harts — Filled with anecdotes, thought exercises, how-tos, and encouragement, this must-have guide for girls of color shows them how to find their voice and make sure everyone around them can hear it. "Ideal for Black and brown girls in need of counsel and support and those who care for them, this book is also beneficial for those outside the target demographic, as it contains advice that serves to make for a better and more inclusive society" (Kirkus Reviews). Get the Audiobook