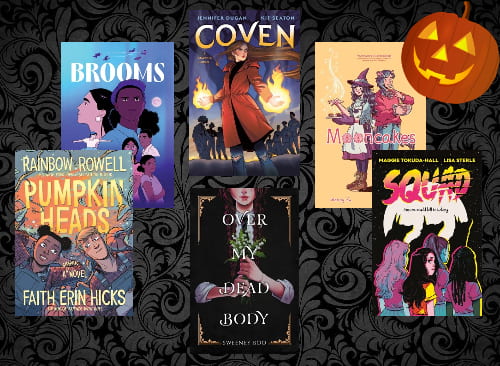 In a recent episode of the Hey, YA podcast from Book Riot, Erica and Tirzah discuss a few YA graphic novels perfect for spooky season! Listen to the "Book Gremlins and Spooky Graphic Novels" episode (scroll down through the playlist to find it), then look for the titles at CA Library (links below):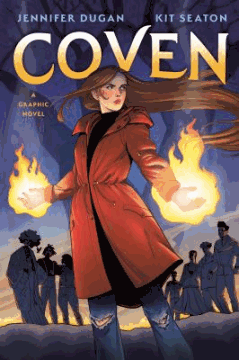 Coven by Jennifer Dugan and Kit Seaton –After members of her coven are murdered, sixteen-year-old Esmy moves across the country with her parents to master her neglected craft in order to find the killer and protect her coven. "With beautiful illustrations, exciting magical powers, and intriguing characters, Coven is the perfect graphic novel for those who love a good witch story" (The Honey Pop). Get the eBook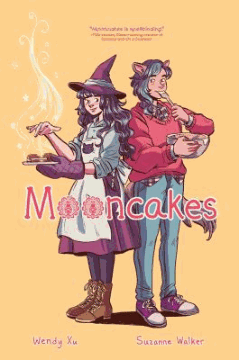 Mooncakes by Suzanne Walker and Wendy Xu –One fateful night, teen witch Nova Huang follows reports of a white wolf in the woods and discovers her childhood crush — werewolf Tam Lang, battling a horse-demon. Now, against the background of a slowly rekindling romance, Tam and Nova must investigate the dark supernatural forces eager to claim wolf magic for evil. "A sweet, spellbinding story" (School Library Journal). Get the eBook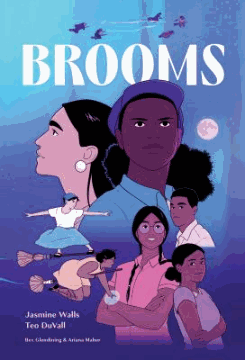 Brooms by Jasmine Walls and Teo DuVall –It's 1930s Mississippi. Magic is permitted only in certain circumstances, and by certain people. Unsanctioned broom racing is banned. But for those who need the money, or the thrills…it's there to be found. "A sweet, entertaining found-family story that weaves magic with historical injustice" (School Library Journal).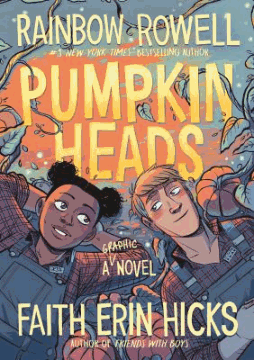 Pumpkinheads by Rainbow Rowell and Faith Erin Hicks –Working at a pumpkin patch every autumn, two seasonal best friends organize ultimate Halloween plans to celebrate their last working year together. "A fall-tastic good time, brought to you from the best of the YA and graphic literature worlds" (Bustle).
Over My Dead Body by Sweeney Boo –While searching for her missing mentee Noreen at the Younwity Hidden Institute of Witchcraft, Abby discovers Noreen's disappearance is connected to another girl who went missing years earlier, which places her own life in danger. "Spooky, mysterious, and also full of heart, this graphic novel is an enchanting story of friendship and found family" (Kirkus Reviews). Get the eBook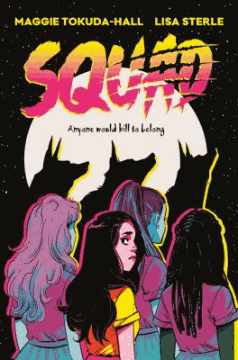 Squad by Maggie Tokuda-Hall and Lisa Sterle –Becca moves to an upscale Silicon Valley suburb and is surprised when she develops a bond with girls who belong to the popular clique — and even more surprised when she learns their secrets. "A story fitted with the sharpest teeth that chomps down on the patriarchy, and I adored it with my entire vicious heart" (Chloe Gong). Get the eBook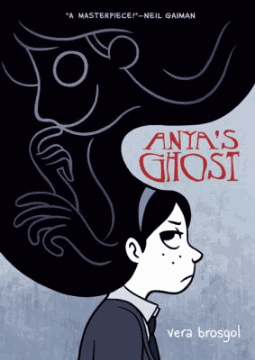 Anya's Ghost by Vera Brosgol –Anya, embarrassed by her family and lacking confidence in her body and her social skills, finally finds a friend after falling down a well, but quickly learns there are drawbacks to having a ghost for a friend. "A masterpiece of YA literature and of comics" (Neil Gaiman).