"Veterans know better than anyone else the price of freedom, for they've suffered the scars of war. We can offer them no better tribute than to protect what they have won for us."
–Ronald Reagan, Radio Address, 5 November 1983
This Veterans Day, we thank all military men and women who have served our country. All of them have stories to tell, and these stories are worth hearing.
Here is a selection of memoirs available at CA Library written by veterans in the armed services: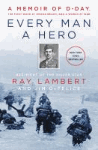 Every Man a Hero: A Memoir of D-Day, the First Wave at Omaha Beach, and a World at War by Ray Lambert — Seventy-five years ago, U.S. Army Staff Sergeant Ray Lambert hit Omaha Beach with the first wave. Now ninety-eight years old, he delivers one of the most remarkable memoirs of our time, a tour-de-force of remembrance evoking his role as a decorated World War II medic who risked his life to save the heroes of D-Day. "Reading Lambert's account is like sitting at your grandfather's feet and hearing some of the best tales you'll ever know. All Americans owe Lambert gratitude for his service and sacrifice, and for sharing his memories" (Booklist).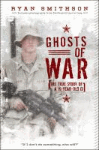 Ghost of War: The True Story of a 19-Year-Old GI by Ryan Smithson — Smithson recounts the experiences he had serving his first tour of duty as an Army engineer in Iraq when he was only nineteen. "A remarkable, deeply penetrating read that will compel teens to reflect on their own thoughts about duty, patriotism and sacrifice" (Kirkus Reviews).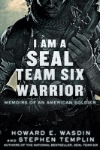 I Am a SEAL Team Six Warrior: Memoirs of an American Soldier by Howard E. Wasdin — Howard Wasdin reflects on his life and military career, discussing his difficult childhood, training, goal to become a member of Navy SEAL Team Six, experiences during the Battle of Mogadishu, and more. "The action will keep all readers turning the pages wanting to see how the missions and training turned out. Wasdin also tells the story from the other side of the press, giving insight into military actions that are often criticized by the media and politicians" (School Library Journal).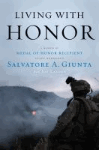 Living With Honor by Salvatore A. Giunta — A memoir of Medal of Honor recipient Staff Sergeant Salvatore A. Giunta discussing his career serving in the Army in Afghanistan. For risking his life to save a wounded soldier from being captured, in 2010 he became the first living person to receive the Medal of Honor since the Vietnam War. "A simply told account that reminds us of the awesome weight accompanying this signal honor" (Kirkus Reviews).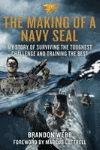 The Making of a Navy SEAL: My Story of Surviving the Toughest Challenge and Training the Best by Brandon Webb — Webb's experiences in the world's most elite sniper corps are the stuff of legend. From his grueling years of training in Naval Special Operations to his combat tours in the Persian Gulf and Afghanistan, his memoir provides a rare and riveting look at the inner workings of the U.S. military through the eyes of a covert operations specialist. "Webb's story makes for a breathless read for the many who will never encounter anything remotely as mentally and physically challenging as the endless training exercises to make it into the SEAL teams" (Booklist).
Predator: The Remote-Control Air War over Iraq and Afghanistan: A Pilot's Story by Matt J. Martin — Air Force Lt. Col. Matt J. Martin is considered a "top gun" in the world of unmanned aerial vehicles (UAVs), flying hundreds of missions on two warfronts and actively involved in virtually every facet of the war on terror in Iraq and Afghanistan: tracking Osama bin Laden, fighting with the U.S. Marines in Fallujah, and rescuing aid workers kidnapped in Afghanistan by the Taliban. "A fascinating tale of the challenges of flying a touchy, mule-stubborn, expensive robot from half a world away" (Air & Space Smithsonian).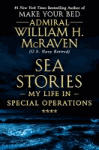 Sea Stories: My Life In Special Operations by William H. McRaven — U.S. Navy Admiral William H. McRaven is a part of American military history, having been involved, as a Navy SEAL, in some of the most famous missions in recent memory, including the capture of Saddam Hussein, the rescue of Captain Richard Phillips, and the raid to kill Osama bin Laden. "Readers interested in the essential work of military special forces will be inspired by McRaven's adventures" (Kirkus Reviews).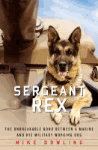 Sergeant Rex: The Unbreakable Bond Between a Marine and His Military Working Dog by Mike Dowling — The thrilling and inspiring story of U.S. Marine Sgt. Mike Dowling and his dog Rex, a bomb-sniffing German Shepard, who forged a bond of trust and loyalty while serving on the war-torn streets of Iraq's most dangerous city as part of the first Marine Corps military K9 teams sent to the front lines of combat since Vietnam. "Dowling's approach offers a clear-headed view of the improvisational nature of combat in Iraq, and the brutal difficulties with which American military personnel contended. A unique testimonial from today's professional, highly specialized military, with a clear extra appeal to animal lovers" (Kirkus Reviews).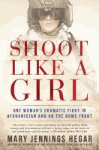 Shoot Like a Girl: One Woman's Dramatic Fight in Afghanistan and on the Home Front by Mary Jennings Hegar — After being commissioned into the U.S. Air Force, MJ Hegar was selected for pilot training by the Air National Guard, finished at the top of her class, then served three tours in Afghanistan, flying combat search-and-rescue missions, culminating in a harrowing rescue attempt that would earn her the Purple Heart as well as the Distinguished Flying Cross with Valor Device. "Hegar's inspirational memoir reflects the strength and grace with which she approached her service to her country, whether she was venturing behind enemy lines to rescue wounded soldiers or standing up for women's right to be on the front line" (Booklist).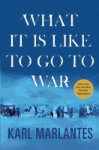 What It Is Like To Go To War by Karl Marlantes — Vietnam War veteran Marlantes (U.S. Marine Corps) weaves accounts of his combat experiences with thoughtful analysis, self-examination, and his readings from Homer to the Mahabharata to Jung. He also underscores the need for returning veterans to be counseled properly. "Both a training manual for would-be warriors and a caution to the politicians who would deploy them, this is also essential reading for civilians who seek to better understand the complicated costs of military action" (Booklist).